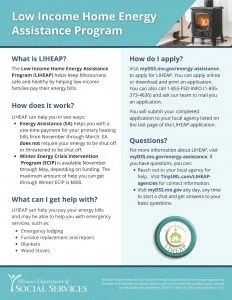 What is LIHEAP?  The Low Income Home Energy Assistance Program (LIHEAP) helps keep Missourians safe and healthy by helping low-income families pay their energy bills.

How does it work? LIHEAP can help you in two ways:  
Energy Assistance (EA) helps you with a one-time payment for your primary heating bills from November through March. EA does not require your energy to be shut off or threatened to be shut off.

Winter Energy Crisis Intervention Program (ECIP) is available November through May, depending on funding. The maximum amount of help you can get through Winter ECIP is $800.